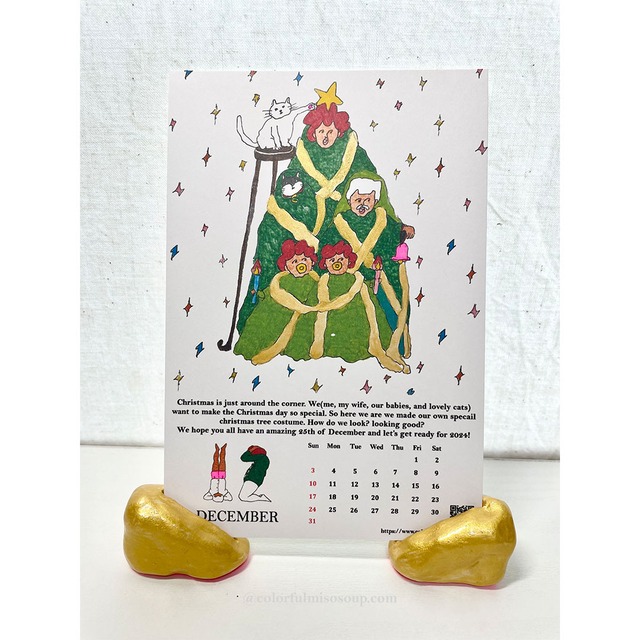 2023 Colorfulmisosoup Original Calendar
SOLD OUT
10/14/2022 23:59 に販売終了しました
Japan domestic shipping fees for purchases over ¥5,000 will be free.
Shipping fee is not included. More information.
*English description below*

♢2023 colorfulmisosoup(カラフルミソスープ)オリジナルカレンダーになります。

♢今回の2023年カレンダーはアートのようなカレンダーを意識して制作しました。
"New Life New Family"をテーマにストーリーのあるカレンダーをお楽しみください。
いつも登場している男と女と2匹の猫に加わり今回は彼らの双子の天使が登場します。

♢数量限定♢
数に限りがございます。是非早めのお求めをお待ちしております。

♢飾り方は置いたり貼ったりお楽しみください。
※金色スタンドに挟める紙は一枚のみです。
2枚以上挟むと倒れる場合がございます。予めご了承ください。

♢取り扱い先
cirque ・quete(シルクケット)
〒430-0938 静岡県浜松市中区紺屋町300−21 SceNext 3F

フルカラープリント
カレンダーsize: 100mm x 148mm (ハガキサイズ)
金色スタンド&王冠マグネット付き
Price: ¥2,500(tax in)
送料: 全国一律 ¥400

どうぞよろしくお願い致します。

ご購入時の注意点
●こちらの不備以外での返品や返金の対応は受け付けておりません。以下の注意書きをよくお読みくださった上でご注文をお願い致します。
●お使いの端末や閲覧環境により、写真と実物の色味や質感、サイズ感が多少異なって見えることがございます。
●発送開始日は10/17を予定しております。
●静岡県浜松市から追跡付き郵便にて発送いたします。
●万が一破損が発生しました場合は到着3日以内にメールで破損個所の写真とともにお知らせくださいませ。

海外からのお客様へ
●関税がかかる場合がございます。関税はお客様(受取人様)のご負担になります。関税の有無などはこちらではお答えできかねますので、ご了承くださいませ。

送料
●5,000円以上のご注文で国内送料が無料になります。
●海外からのご注文には別途送料がかかります。

オリジナル作品 

♢2023 colorfulmisosoup original calendar.

♢I hope you will enjoy each month with my drawings.
I have created a calendar with a story based on the theme of "New Life New Family".
In addition to the man, woman, and two cats, this time their twin angels will make an appearance. Please enjoy their new life story and my art.

♢Limited quantity♢
This original calendar is limited quantities, I would recommend you purchase it as soon as possible.

♢Feel free to decorate it any way you like.
You can stand it on a stand that comes with the calendar, use magnet to stick it to the refrigerator, or clip it and hang it on walls.

♢Full color print
Calendar size: 100mm x 148mm (postcard size)
Gold color stand and crown magnet come with the calendar.

♢Stockist
cirque ・quete

Thank you for your patience.

ATTENTION!
Not sale for oversea customers
●I CANNOT accept returns or refunds for purchases.
Take time to read the description of the items. Please, read carefully the following terms and conditions.
●Please note that the colors, textures and sizes may differ slightly from those in the photos depending on your device or viewing environment.
●I post all items with Express Mail Service tracked and signed with compensation (national/international) from Shizuoka Japan within 10 working days of your order. It will usually take about 1-3 weeks to arrive.
●If your post is lost or damaged during shipment, please contact me within 3 days of receiving your items with clear photos of the damage.
●Non-JAPAN customers might be subject to import taxes or customs duty and fees. This is the recipient's responsibility. I have no control over these charges and cannot answer any questions with such matters.

COST TO SHIP
●Japan domestic shipping fees for purchases over 5,000JPY will be free.
Add to Like via app
Reviews

(0)

Shipping method / fee

Payment method
¥2,500 tax included
SOLD OUT